---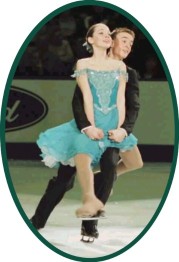 In February 2003, Lauren Flynn & Leif Gislason decided to end their longtime partnership. Lauren remains committed to the sport and is currently in search of a new partner, while Leif is contemplating retirement in order to attend university in Edmonton. I wish both skaters all the best in anything they choose to pursue in the future, and will leave this site up as a memorial of their partnership, and how much I enjoyed watching them skate together.
---
Home
This page is where you'll find the latest news on Lauren and Leif, and info about any of their upcoming competitions, TV appearances, or other events.
Bios
Want to know more about Lauren and Leif? Read their bios here.
Competitive Record
Results from over their years as a team.
Photo Gallery
A few photos... hopefully there will be more soon!
Related Links
Articles, links to past results, and other related links.
---
The Latest News
February 18, 2003 - The Winnipeg Free Press has confirmed that Lauren and Leif have decided to end their partnership.
January 12, 2003 - Congrats to L&L for a seventh-place finish in their first try senior Canadians! Full results can be found here.
October 20, 2002 - L&L earn another fourth place finish at JGP Beijing. Coming up next... their senior-level debut at Canadians!
September 28, 2002 - Lauren and Leif place fourth at the Junior Grand Prix event in Montreal. Full results can be found here.
---
The photos on this page are property of J.B. Mittan. Please visit his site, below.

---
View My Guestbook
Sign My Guestbook
---
HOME | Bios | Competitive Record | Photo Gallery | Links | Contact | Guestbook